The following are some case histories of CEC projects.
Click on image for bigger picture

CEC designed and developed the inverter portion of this commercially successful induction cook top. Key performance attributes were simplicity, reliability and low cost.

These are some custom ferrite and bobbin designs done for our customers' switching power supply, electronic ballast, and other high voltage applications.

This 12 volt halogen electronic ballast was redesigned by CEC to provide for low cost, overload, lamp failure and short circuit protection in anticipation of pending UL/CSA standards.

This ultra-low cost ram-cell battery charger design was done for the Grand Battery Corporation. Currently the 240V IEC Version is on sale in Europe. Watch for the American version at your local Wal-Mart.

This CEC design, done for the Everbrite corporation of Greenfield Wisconsin has been manufactured in the millions for 7 years with a field failure rate of less than .02%. Several patents were issued for this project.

One of our many repeat customers, the Rayovac Corporation of Madison Wisconsin asked us to develop the charge control/indicator circuitry for their Renewal Rechargeable Battery ® line.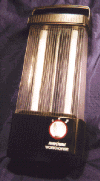 The electronic ballast inverter circuit within this fluorescent lantern was designed by CEC for the Rayovac Corporation. The inverter combines easy manufacture, low cost and low part count to make help make this price sensitive consumer product a success.

Shown at the left are two of the many neon and fluorescent electronic ballasts we have developed for customers over our 20 years in business.

Skil Corporation (now Skil/Bosch) asked for assistance with this power tool Ni-Cd battery charger. We responded with a quick turn around prototype containing a novel, low cost negative-delta-V charger termination scheme on which a patent was issued. This product complies with FCC part 18 regulations.